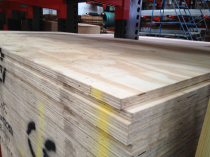 Plywood


Manufactured wood panel made from thin sheets of wood veneer. It is one of the most widely used wood products. It is flexible, inexpensive, workable, and re-usable.
Plywood is used instead of plain wood because of its resistance to cracking, shrinkage, splitting, and twisting/warping, and its general high degree of strength.

Cutting Service

We are now offering a cutting service for our sheet material range.
When you make a purchase of any of the products below in-store you will recieve 10 free cuts (there will be a small charge for any additional cuts)

Prices
10 cuts free
11 cuts £5.50+VAT
12 cuts £6.00+VAT
13 cuts £6.50+VAT
etc.