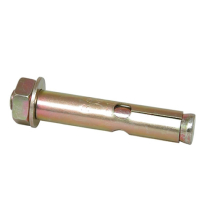 The Sleeve Anchor is a thin wall sleeve anchor which is perhaps the most commonly used fixing. Suitable for Brickwork, Dense Blockwork and Concrete it is a low cost anchor both in supply and installation. Supplied as Zinc Plated its variety of head styles such as Hex Nut, Hex Bolt, Countersunk, Hook and Eyebolt help it fulfil a vast range of applications.<>/p

Applications - Stadium seating, handrails, ductwork, battens, trunking, door frames
Features - Through fixing, zinc plated, torque Controlled
Sizes: Anchor hole size x anchor length (mm)
Click here for a full data sheet including hole sizes.