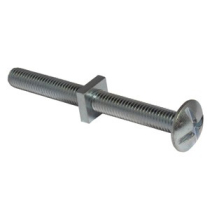 Roofing bolts can be used on many DIY projects other than roofing. These double slotted roofing bolts are supplied with square nuts and have a low profile mushroom head. Their bright zinc plated finish increases resistance to corrosion. The bolts are therefore suitable for both interior and exterior use, and can be exposed to weather conditions without the risk of rusting.
APPLICATION:
Used in many various applications other than roofing, when joining products together.
Use Drill sizes 1mm larger than bolt diameter.
Zinc coatings prevent oxidation of the protected metal to create a longer lasting finish. It does this by forming a barrier and by acting as a sacrificial anode if this barrier is damaged. Zinc oxide is a fine white dust that (in contrast to iron oxide) does not trigger a breakdown of the substrate's surface integrity as it is formed. The zinc oxide, if left intact, can act as a barrier to further oxidation, in a way similar to the protection afforded to aluminum and stainless steels by their oxide layers.
With Slotted screwdrivers it is important to ensure that the tip matches the width of the screw slot, otherwise you run the risk of damaging the screw head. Slotted screwdrivers are available with either Flared or Parallel tips. For the majority of uses the Flared tip is ideal but if the screw/bolt needs to be driven below the material surface a Parallel tip screwdriver should be used.