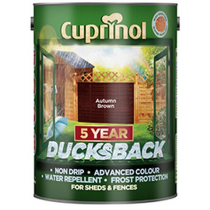 Although the highest proportion of our timber products are already "tanalised" or treated, we acknowledge
that additional treatment, colouring or preservatives are an important customer requirement.

We offer treatments for all types of external timbers, such as decking, sheds, fence panels,
garden furniture and trellis. We carry a wide range of stains, preservatives, oils, timber cleaners,
protectors and sealants of various colours, to maintain your products.


For any enquiries, don't hesitate to contact one of our experienced sales team on 01282 868204.