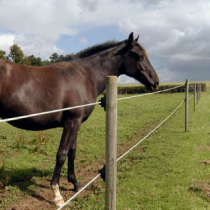 Our comprehensive electric fencing range covers every application from containing your cattle and horses to protecting your back yard poultry and pets.
Electric fencing is an effective tool for economic and healthy management of your land and animals while offering a portable and cost effective alternative to more traditional forms of fencing.
With the ever increasing popularity of growing your own fruit and veg and rearing of poultry, Lanlee also supply electric fencing products which are flexible, easy to set up and have a low visual impact to protect the fruits of your labour from a range of predators.