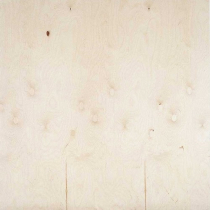 What is Birch Plywood?

Birch Plywood is a High Quality multi-ply panel with excellent physical and mechanical properties.
It is used extensively in construction, packaging, furniture and vehicle manufacture, and other precisiong negineering applications.
Its main attributes are its consistent strengh, fine grain texture, and ease of finishing.

Strength

Birch Plywood is made up of multiple layers of relatively thin veneers, resulting in a higher glue content for any given thickness compared to other plywood panels.
While the outer plies are always birch, for some productions where weight and value are of a greater importance than strengh, alernative birch veneers are replaced with spruce to create a 'combi' construction.

Appearance

Birch veneeer is of a pale colour with a fine, well sanded finish, allowing it almost limitless customization options.
It can be left unfinished, or further sanded and stained, or painted to your requirements.

A Renewable Source

From the ecolodgical perspective, birch is an abundant, relatively fast grown, temperate species.
It is grown in certified, well managed plantations, where biodiversity and sustainability are protected during the growth, harvesting and replanting cycle.