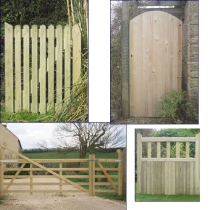 Here we have a complete selection of all types of gates and gate fittings.

Timber field and driveway gates, galvanised field gates, back yard and entrance
gates and all the necessary fittings you will need to install or replace your requirements.
We have from stock a huge selection of standard sized products, but if you need a bespoke
solution, please contact our sales team for pricing and details of our made to measure options.

Just call 01282 868204, and ask to speak to sales.